I Beam Hanger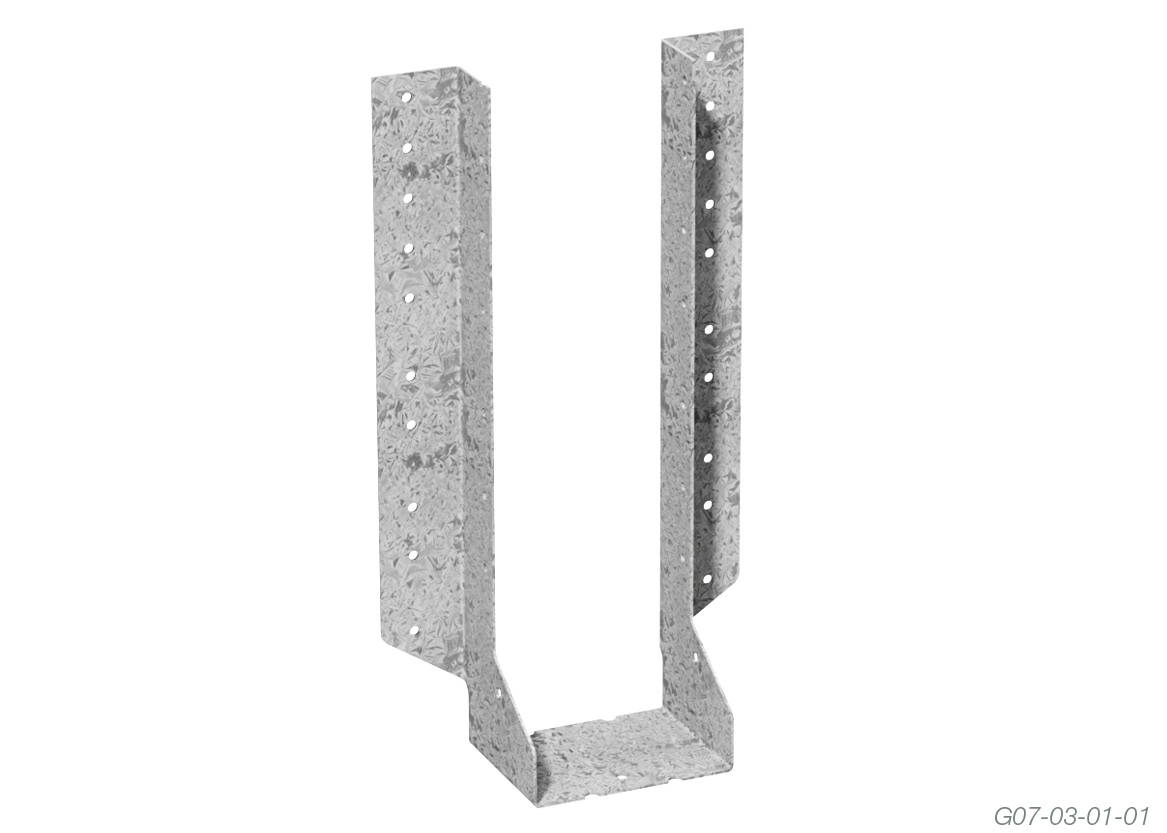 Pre-punched, formed galvanised steel connector available for all types of timber I-Joists - very easy to install!

These pre-punched and formed galvanised steel timber connectors are ideal for:

Fastening I-Joists to the face of beams or bearers.
APPLICATION - FACE MOUNTED
Designed for residential and normal loaded I-joist applications, the Multinail I Beam hanger allows flexibility in fastening by using nails. A screw secure fixing into the joist bottom flange holds the joist in position and prevents timber joist squeaking.
The I Beam Hanger is easy to install. Simply use 12/40mm x 3.75Ø galvanised nails, 6 nails through each wing, for face mounted hanger. Use one 30mm-No.6 Type 17 bugle head screw through bottom hole to hold joist in position.
Multinail Face Mounted I Beam Hanger secured full height of I-Joist to beam/bearer using galvanised nails.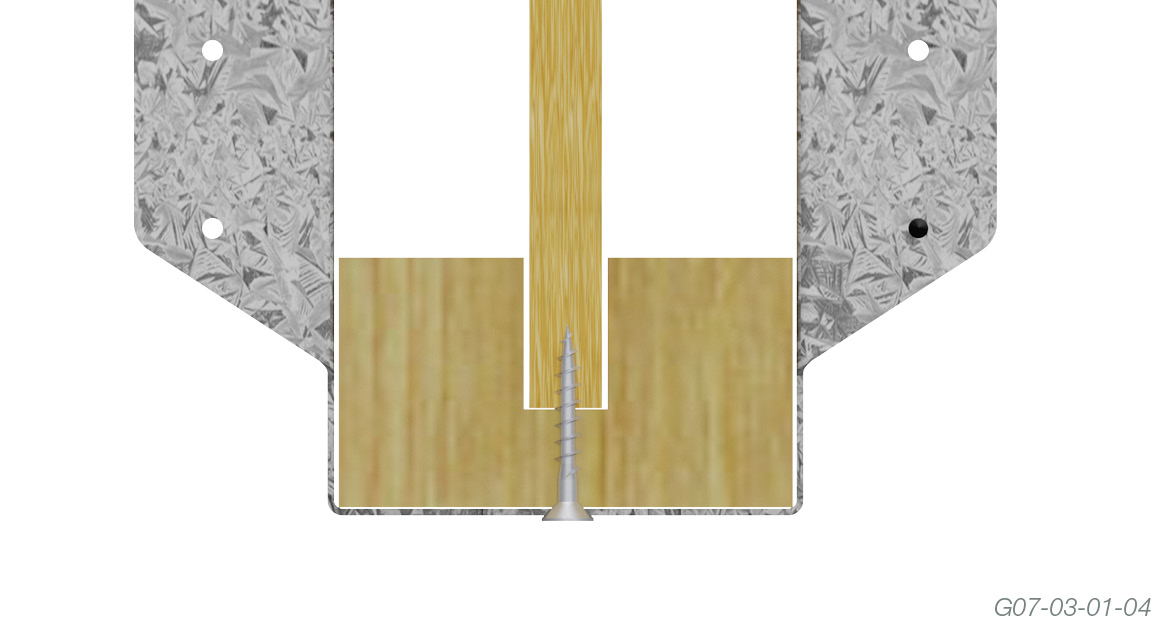 Multinail recommends fixing 30mm-No.6 Type 17 bugle head screw through the I Beam Hanger bottom hole to joist bottom plate.
LIMIT STATE DESIGN LOADS
The following table gives the recommended Limit State Design capacities for Multinail I Beam Hangers. Design capacities are for use in limit state design procedures to AS1720.1-2010
Maximum Limit State Design Capacities (kN) for I Beam Hangers - Face Mounted
Total Nails to support
Load Combination
Joint Group
J2/JD3
J3/JD4
JD5
8 Nails
Dead Load
7.2
5.2
4.3
8 Nails
Dead Load + Floor Live Load
8.7
6.2
5.2
10 Nails
Dead Load
9.0
6.4
5.3
10 Nails
Dead Load + Floor Live Load
10.9
7.8
6.4
12 Nails
Dead Load
10.8
7.7
6.4
12 Nails
Dead Load + Floor Live Load
13.1
9.4
7.7
14 Nails
Dead Load
12.6
9.0
7.4
14 Nails
Dead Load + Floor Live Load
15.2
10.9
9.0
200mm deep hangers require 8 nails per hanger
240mm deep hangers require 10 nails per hanger
300mm deep hangers require 12 nails per hanger
350mm deep hangers require 14 nails per hanger
NOTE: The capacities are derived from AS1720-2010 and are for uplift in houses where failure is unlikely to affect an area greater than 25m2. For primary elements in structures other than houses or elements in a house for which failure would be greater than 25m2 these capacities must be multiplied by 0.94. For primary joints in essential services or post disaster buildings multiply by 0.88.
DESCRIPTION AND PACKAGING
Manufactured from 1.2mm Galvanised G300 Z275 Steel
Description
Product Code
Reference Code
Carton quantity
Carton kg.
I Beam Hangers - Face Mounted
238.5 x 42mm
IBF24040
IBF24040
25
6.4
299 x 42mm
IBF30040
IBF30040
25
7.9
190 x 45mm
IBF20044
IBF20044
25
5.2
237 x 45mm
IBF24045
IBF24045
25
6.4
297.5 x 45mm
IBF30045
IBF30045
25
7.8
234.5 x 50mm
IBF24051
IBF24051
25
6.4
295 x 50mm
IBF30051
IBF30051
25
7.8
233 x 53mm
IBF24053
IBF24053
25
6.4
293.5 x 53mm
IBF30053
IBF30053
25
7.9
351 x 53mm
IBF35653
IBF35653
25
9.2
289.5 x 60mm
IBF30060
IBF30060
25
7.9
347.5 x 60mm
IBF34760
IBF34760
25
9.2
236.5 x 63mm
IBF24563
IBF24563
25
6.6
180 x 65mm
IBF18065
IBF18065
25
5.2
235.5 x 65mm
IBF24063
IBF24063
25
6.6
287.5 x 65mm
IBF30063
IBF30063
25
7.8
345 x 65mm
IBF36063
IBF36063
25
9.2
233 x 70mm
IBF24070
IBF24070
25
6.6
285 x 70mm
IBF30070
IBF30070
25
7.8
352.5 x 70mm
IBF35670
IBF35670
25
9.5
400 x 70mm
IBF40670
IBF40670
25
10.6
235 x 90mm
IBF24090
IBF24090
25
6.9
290 x 90mm
IBF30090
IBF30090
25
8.2
342.5 x 90mm
IBF36090
IBF36090
25
9.5
390 x 90mm
IBF40090
IBF40090
25
10.6