MultiStrut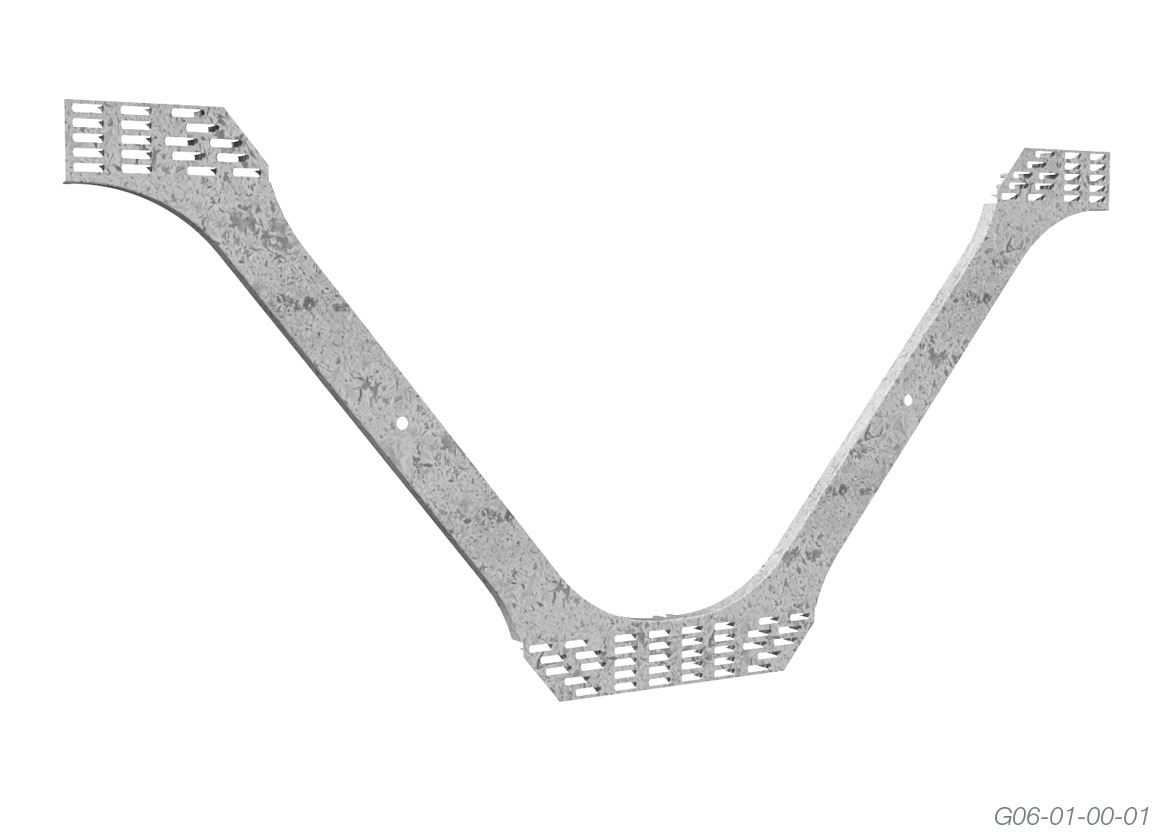 Steel webs for the easy manufacture of parallel timber floor joists and rafters.

These Pre-punched and formed galvanised metal webs are:

Ideal for the fast, reliable manufacture of parallel timber joists and rafters.

Come in a variety of depths.

Ideal for builders wanting to easily run services like plumbing, electrical and air conditioning through the floor space.
MAXIMUM CLEARANCE BETWEEN WEBS
The open web design enables building services such as plumbing, electrical, air conditioning to be run between the chords without the need for drilling, notching or cutting.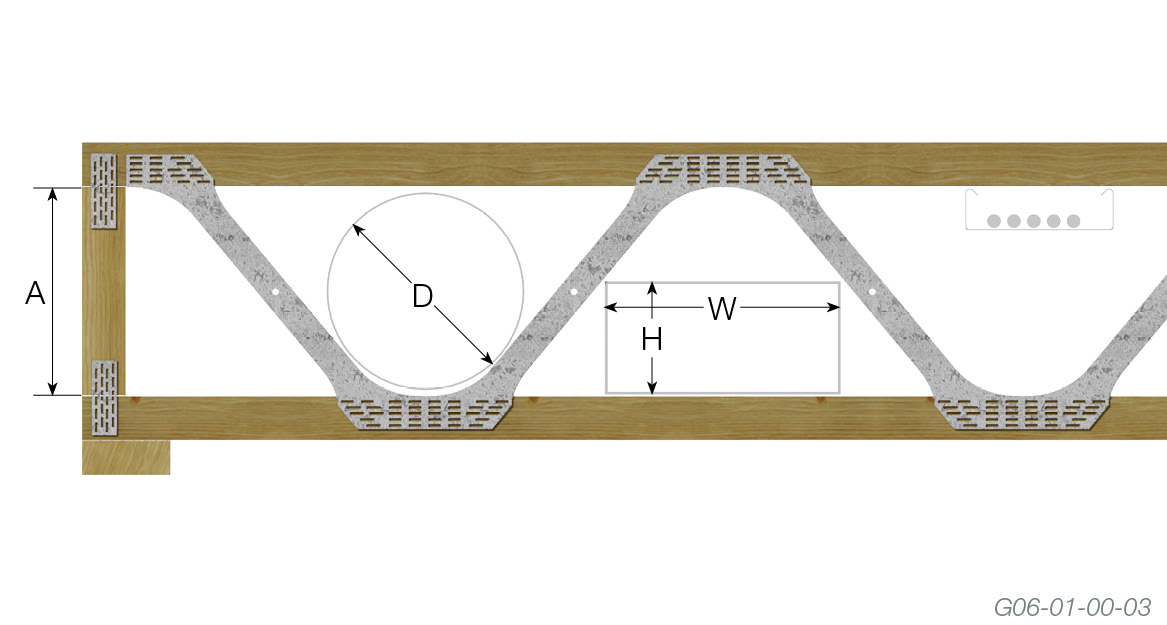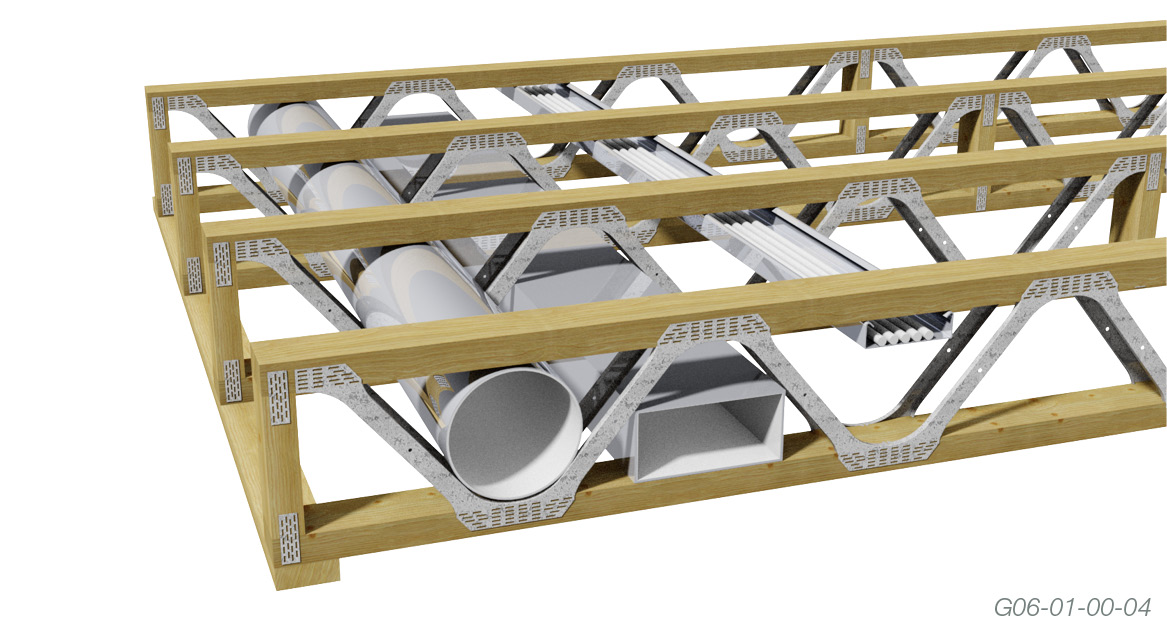 | | MS200 | MS250 | MS300 | MS360 | MS400 |
| --- | --- | --- | --- | --- | --- |
| A (mm) | 125 | 160 | 210 | 270 | 323 |
| D (mm) | 120 | 150 | 200 | 253 | 280 |
| H (mm) | W (mm) | W (mm) | W (mm) | W (mm) | W (mm) |
| 50 | 280 | 300 | 330 | 501 | 500 |
| 100 | 140 | 200 | 250 | 404 | 410 |
| 150 | N/A | 70 | 170 | 308 | 330 |
| 200 | N/A | N/A | 70 | 211 | 250 |
| 250 | N/A | N/A | N/A | 114 | 170 |
| 300 | N/A | N/A | N/A | N/A | 70 |
MOST COMMONLY USED MULTISTRUT
Floors With 1.5kPa Loading
MultiStrut
nominal size
Overall
depth
Timber
size
450
centres
(MGP10)
600
centres
(MGP10)
MS200-45
215
45 x 90
4800
4000
MS250-45
250
45 x 90
5400
5200
MS300-35
300
35 x 90
5400
4200
MS300-45
300
45 x 90
5800
5400
MS360-45
360
45 x 90
6000
5600
MS400-45
413
45 x 90
6800
5800
Floors With 3kPa Loading
MultiStrut
nominal size
Overall
depth
Timber
size
450
centres
(MGP10)
600
centres
(MGP10)
MS200-45
215
45 x 90
4000
3200
MS250-45
250
45 x 90
4800
3400
MS300-35
300
35 x 90
4600
3400
MS300-45
300
45 x 90
5200
4000
MS360-45
360
45 x 90
5400
4200
MS400-45
413
45 x 90
6000
5000
DESCRIPTION AND PACKAGING
Manufactured from 1.0mm Galvanised G300 Z275 Steel
Nominal Depth - 35mm Chords
Description
Product
Code
Reference
Code
Carton
quantity
Carton kg.
300mm†
Clip of 20
MSW-300-35
MS30035
20
6.45
Pallet of 88 Clips
MSW-300-35LP
MS30035-P
1760
567.6
8 Pallet of 88 Clips
MSW-300-35LP-8
MS30035-8P
14080
Nominal Depth - 45mm Chords
Description
Product
Code
Reference
Code
Carton
quantity
Carton kg.
200mm*
Clip of 20
MSW-200-45
MS20045
20
5.66
Pallet of 104 Clips
MSW-200-45LP
MS20045-P
2080
588.6
8 Pallet of 104 Clips
MSW-200-45LP-8
MS20045-8P
16640
250mm*
Clip of 20
MSW-250-45
MS25045
20
5.85
Pallet of 104 Clips
MSW-250-45LP
MS25045-P
2080
608.4
8 Pallet of 104 Clips
MSW-250-45LP-8
MS25045-8P
16640
300mm*
Clip of 20
MSW-300-45
MS30045
20
6.45
Pallet of 104 clips
MSW-300-45LP
MS30045-P
2080
670.8
8 Pallet of 104 clips
MSW-300-45LP-8
MS30045-8P
16640
360mm*
Clip of 20
MSW36045
MS36045
20
9.04
Pallet of 40 clips
MSW36045-P
MS36045-P
800
362
8 Pallet of 40 clips
MSW36045-P8
MS36045-8P
6400
400mm*
Clip of 20
MSW-400-45
MS40045
20
10.7
Pallet of 40 clips
MSW-400-45LP
MS40045-P
800
428
8 Pallet of 40 clips
MSW-400-45LP-8
MS40045-8P
6400