Locknail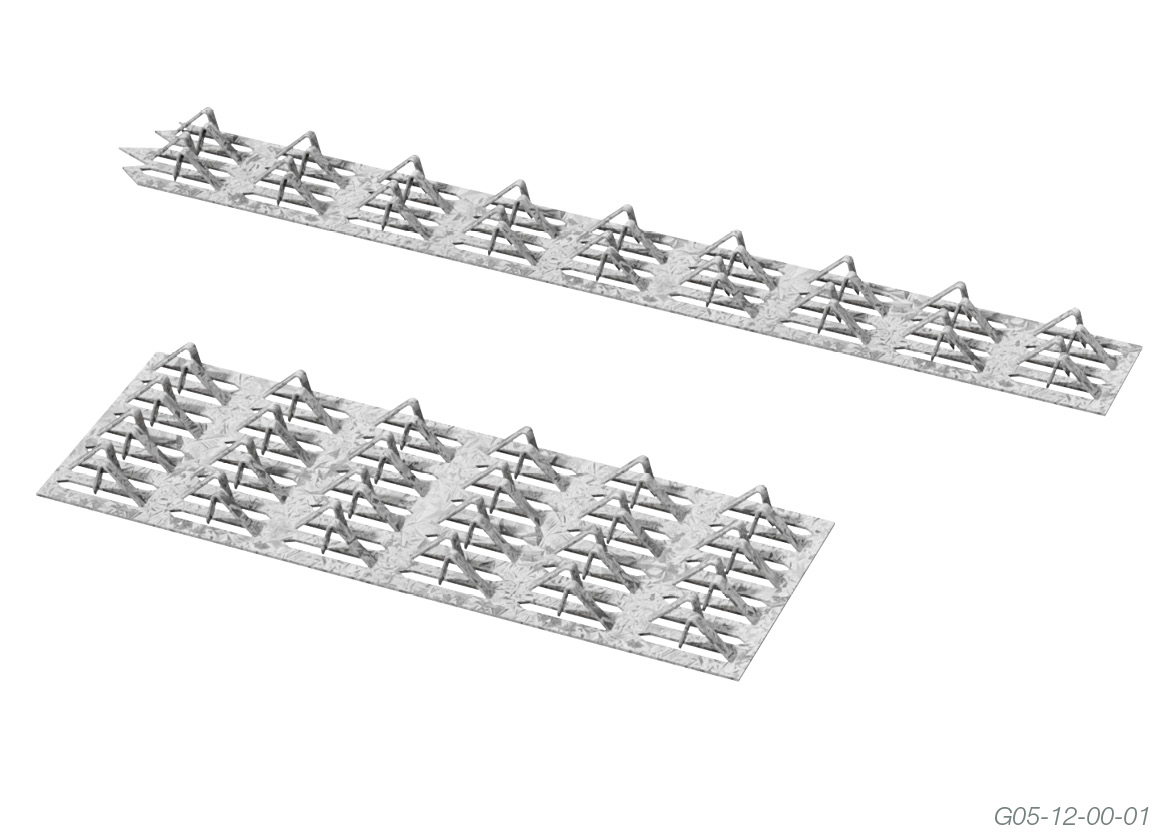 Formed galvanised steel connectors ideal for joining wall plates in timber wall frames on site, using a carpenter's hammer
These formed galvanised steel timber connectors are ideal for:
On site joining of wall frames, engineered designed trusses and splicing timber beams.
General connections such as reinforcing boxes and bolted joints.
End protection for scaffold planks.
Locknails require no special equipment and can be applied on site!
APPLICATIONS
Applying the Locknail is very simple as no special pressing equipment is needed.
The Locknail's teeth can be driven into a piece of timber using a normal carpenter's hammer on site by tradespersons, home owners and builders.
Locknails are suitable for all softwoods and some unseasoned hardwood timbers. Difficulty may be experienced when driving into seasoned hardwood and some unseasoned hardwood timber.
Step 1
Position the Locknail central to where the two pieces of timber meet.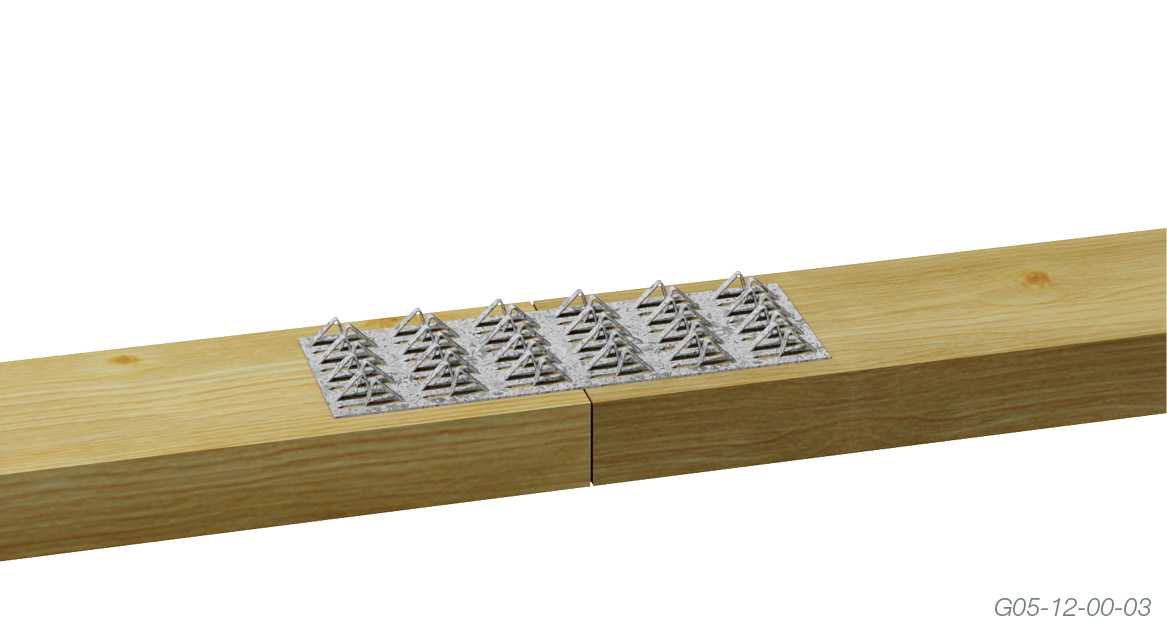 Step 2
Using a carpenter's hammer, drive the protruding teeth into the timber. For butt joining, turn the timber over and repeat the process on the other side.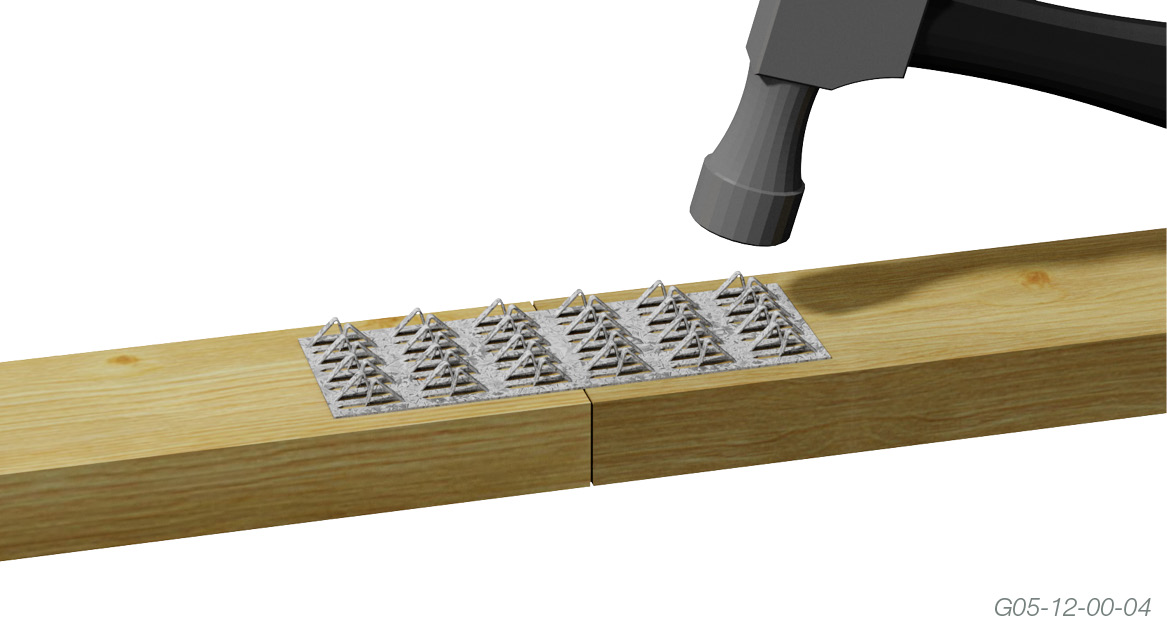 Step 3
The Locknail teeth should now be embedded securely into the timber, subsequently joining the two separate pieces of timber together.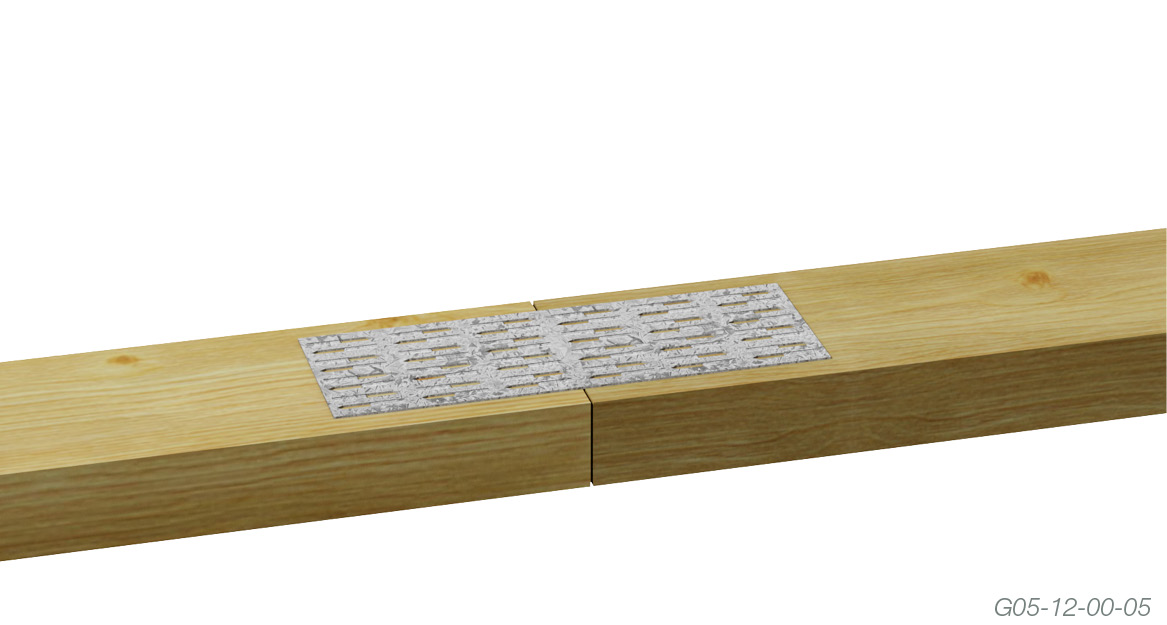 LIMIT STATE DESIGN LOADS
Design Load Capacity Nj (N) per Tooth
Load
JD4
Dead
131
Dead + Roof Live
177
Dead + Wind
299
NOTES: The uplift in capacities are derived from AS1720-2010 and are for houses where failure is unlikely to affect an area greater than 25m2. For primary elements in structures other than houses or elements in a house for which failure would be greater than 25m2 these capacities must be multiplied by 0.94. For primary joints in essential services or post disaster buildings multiply by 0.88.
DESIGN
In timber joint design, nails within 6mm of timber edges or within 12mm of timber ends are regarded as ineffective. As the nail rows in the Locknail are 32mm apart, all nails, fixed symmetrical over the joint are effective.
DESCRIPTION AND PACKAGING
Manufactured from 1.0mm Galvanised G300 Z275 Steel
Plates
| Description (W x L) | Product Code | Reference Code | Carton quantity | Carton kg. |
| --- | --- | --- | --- | --- |
| 33 x 127mm | TA661 | LNP033127 | 267 | 10 |
| 33x 190mm | TA662 | LNP033190 | 178 | 10 |
| 44 x 63mm | TA663 | LNP044063 | 400 | 10 |
| 44 x 127mm | TA664 | LNP044127 | 200 | 10 |
| 44 x 190mm | TA665 | LNP044190 | 133 | 10 |
| 44 x 222mm | TA666 | LNP044222 | 114 | 10 |
| 44 x 254mm | TA667 | LNP044254 | 100 | 10 |
| 44 x 317mm | TA668 | LNP044317 | 80 | 10 |
| 67 x 63mm | TA669 | LNP067063 | 262 | 10 |
| 67 x 127mm | TA670 | LNP067127 | 131 | 10 |
| 67 x 190mm | TA671 | LNP067190 | 87 | 10 |
| 67 x 222mm | TA672 | LNP067222 | 74 | 10 |
| 67 x 254mm | TA673 | LNP067254 | 65 | 10 |
| 89 x 63mm | TA674 | LNP089063 | 200 | 10 |
| 89 x 127mm | TA675 | LNP089127 | 100 | 10 |
| 89 x 190mm | TA676 | LNP089190 | 66 | 10 |
| 89 x 254mm | TA677 | LNP089254 | 50 | 10 |
| 89 x 317mm | TA678 | LNP089317 | 40 | 10 |
| 89 x 380mm | TA679 | LNP089380 | 33 | 10 |
| 133 x 63mm | TA680 | LNP133063 | 133 | 10 |
| 133 x 127mm | TA681 | LNP133127 | 66 | 10 |
| 133 x 190mm | TA682 | LNP133190 | 44 | 10 |
| 133 x 254mm | TA683 | LNP133254 | 33 | 10 |
| 133 x 317mm | TA684 | LNP133317 | 27 | 10 |
| 133 x 380mm | TA685 | LNP133380 | 22 | 10 |
Rolls
| Description (W x L) | Product Code | Reference Code | Carton quantity | Carton kg. |
| --- | --- | --- | --- | --- |
| 33 x 15000mm | TA686 | LNR033150 | 1 | 4.1 |
| 44 x 15000mm | TA687 | LNR044150 | 1 | 5.4 |
| 67 x 15000mm | TA688 | LNR067150 | 1 | 8.2 |
| 88 x 15000mm | TA689 | LNR088150 | 1 | 10.8 |
| 133 x 15000mm | TA690 | LNR133150 | 1 | 16.3 |